2019 Economic Forecast Luncheon
February 1, 2019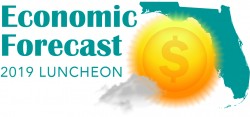 Time: 11:00 am - 1:30 pm
Location: Hyatt Place Tampa/Wesley Chapel
26000 Sierra Center Boulevard
Lutz, FL 33559
Early Registration: $35 (by January 18, 2019)
Regular Registration: $40 (January 19-31, 2019)
Pasco County Staff ONLY: $30
Advance Registration Required no later than January 31
Presentation by:
JOHN B. JUNG, Jr. , BB&T CAPITAL MARKETS
Senior Managing Director and Head of BB&T Capital Markets
"The U.S. Economy - Facts are Stubborn Things"
Join us to learn about the key drivers of the U. S. economy. Mr. Jung has over 30 years of experience in the securities industry and is responsible for leading the firm's debt and equity capital markets businesses. He is a dynamic speaker with expertise in governmental, financial and economic issues impacting our country as well as the commercial real estate market.

Presentation brought to you by:

Sponsored by:

One more sponsorships is available at $1,500. If you are interested in sponsoring this event, contact Suzanne at (813) 926-0827 ext. 226 or suzanne@pascoedc.com for details.