Common Grounds Pitch Presentation
April 1, 2020
This event has expired.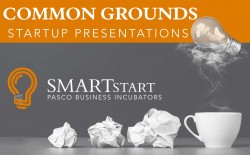 Via Zoom - Details Coming Soon
Date & Time: Wednesday, April 1, 2020 (10:00 am – 11:00 am)
Location: Via Zoom - Details Coming Soon
Registration: No Cost
Interested in applying to pitch your business idea?
Join us for our Common Grounds Pitch series. Two individuals will present a five-minute pitch and introduce their business ideas to the local entrepreneurial community in Pasco County. Each pitch will be followed by a question and answer/feedback opportunity with the gathered business community. Come out for Coffee and Networking.
Additional Common Grounds dates:
April 8, 2020 - East Pasco Entrepreneur Center
May 13, 2020 - East Pasco Entrepreneur Center
June 3, 2020 - West Pasco Entrepreneur Center

July 1, 2020 - West Pasco Entrepreneur Center

July 8, 2020 - East Pasco Entrepreneur Center

August 12, 2020 - East Pasco Entrepreneur Center

September 2, 2020 - West Pasco Entrepreneur Center
Location address:
West Pasco Entrepreneur Center, 4532 US Highway 19, First Floor, New Port Richey, FL 34652
East Pasco Entrepreneur Center, 15029 14th Street, Dade City, FL 33525