Pasco EDC Presents: Pasco EdX Virtual Talks
January 29, 2021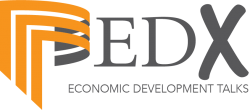 Date & Time: Friday, January 29, 2021
(11:30 am – 12:30 pm)
Location: Online (log in instructions will be e-mailed to
registered participants)
Registration: No Cost
Join us virtually as we invite experts from across the country to speak about various topics in economic development and share their stories with our community. While our face to face meetings are limited at this time, we are turning that weakness into the strength of having access to leaders across the country as we hear about different communities are handling these trying times. We will also have virtual networking before and after the event, allowing attendees to connect with each other and stay engaged.
Entrepreneurship Through Comedy
"What Stand Up Comedy can teach you about the secrets of entrepreneurship."
Dr. Kerry Szymanski is the Director of the Tampa Bay Women's Business Centre (WBC). She has a wealth of knowledge and experience in consulting, entrepreneurship, higher education, and corporate marketing. Her entrepreneurial experience includes Kerry Communications consulting, Groovy Face Masks and SassyBB retail boutique. Corporate marketing experience includes working with Bally Total Fitness, Harry and David and Duty-Free Americas. Dr. Szymanski has more than 17 years of experience teaching undergraduate and MBA courses in marketing, strategy, branding, leadership and entrepreneurship at the Art Institute of Fort Lauderdale and American Business & Technology University. She holds her DBA from Argosy University, MBA from the University of Oregon, and BA in International Relations from Syracuse University. Dr. Szymanski is the author of, Seduce Your Customers, a professional speaker and stand-up comedian.