SAINT LEO - 2nd Annual Women in STEAM Conference
March 6, 2020
This event has expired.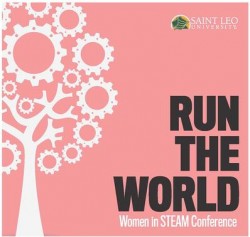 Date & Time: Friday, March 6 & 7, 2020 (8:00 am – 5:00 pm)
Location: Saint Leo University, Saint Leo, Florida
Registration: Adult Ticket (Admittance to both days): $100
Youth Ticket **(Admittance to day 2 only): $50
Standing Out and Speaking Up: Skills for Taking Center Stage
The adult ticket for the Women in STEAM Conference grants you access to a full two days of workshops hosted by field experts on a wide-range of topics, keynote presentations, and networking opportunities. Lunch for both days is included.

The youth ticket grants grade-school students access to the second day of the conference, which includes age-specific, interactive workshops and keynote presentations. Lunch is also included. Additionally, each youth ticket comes with a discount code for $50 off the registration fee for any 2020 Saint Leo University STEAM Summer Camp*
*SLU STEAM Summer Camps include: CSI Camps, Environmental Science & Sustainability Camp, Game Design Academy, Hogwarts Academy, Lions Art Den – Cub Camps, Robotics Camps, and Social Justice Camps. The discount code will be provided via email after a youth ticket is purchased.