Define Your Passion
Passion is the fuel that drives every successful business owner. DE, Inc.'s Personal and Business Goal Assessment is a tool to help define your passion. If you are just starting out it gets you pointed in the right direction. If you have been working in your business for many years, it helps you find the passion that drove you in the beginning and harness that fire again!
Small business owners and entrepreneurs don't start businesses just to make money. They use the business as a vehicle to realize those dreams that drove them in the first place; to get what they really wanted out of life.
Your passion is a major piece of strategic planning and losing sight of your dream can make your business and life frustrating.
Personal and Business Growth Assessment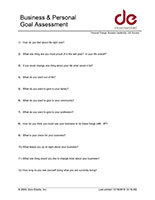 The Personal and Business Growth Assessment is a questionnaire that will help you better understand the passion you have and how your business fits into your life dreams.
---
Connect with the PEN partners that can help you define your passion: