Leading with Laughter - TWBWC
May 26, 2022
This event has expired.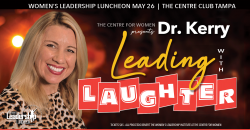 Date & Time: Thursday, May 26, 2022
(11:30 am – 1:30 pm)
Location: The Centre Club Tampa
Registration: $45.00
Great leaders understand the importance of pivoting and resiliency. These are skills that can be developed to create more effective leaders. Learn how stand-up comedy teaches all of us the importance of laughter and resiliency.