Tech Entrepreneur Roundtable
May 25, 2022
This event has expired.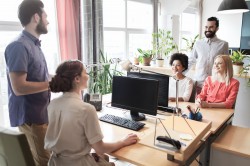 Who is invited: Pasco County-based technology entrepreneurs.
Registration: FREE
Date & Time: Wednesday, May 25, 2022 (9:00 am – 10:30 am)
Location: Epperson Lagoon - 31885 Overpass Rd, Wesley Chapel, FL 33545
Our Tech Roundtable will likely be quarterly and move around various locations throughout the county. The first location will be at Epperson Lagoon, with a special presentation on Connected Cities from the head of Metro Development Group.
There will be networking with other Tech companies and open discussion on being a tech entrepreneur in Pasco County, and what support is needed moving forward. Coffee and light breakfast snacks will be available.